How to Reduce Touchpoints When Traveling Through Bradley International Airport #BDLcares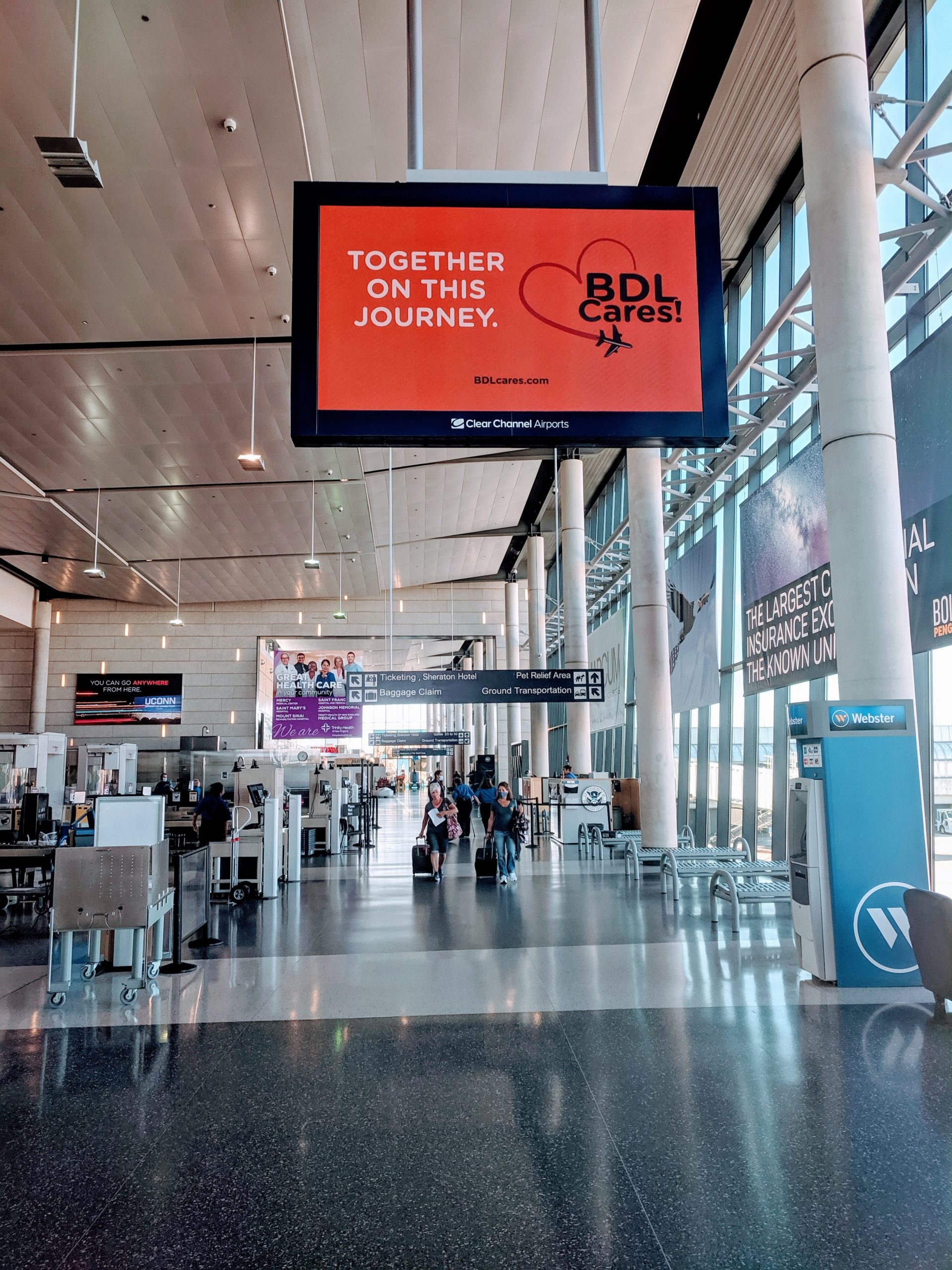 If you have booked an upcoming flight, or are thinking of traveling soon, it is important to come to the airport prepared. Be sure to review all of the airline and airport COVID-19 related information, as well as any travel advisories and restrictions in place in your home state or final destination.
Finally, consider following these tips to minimize the potential spread of germs:
1. Skip the Shuttle, Walk from the Garage
Our parking garage is conveniently located across the main terminal and a short walking distance away. The cost is $10 for the day. For the latest parking information, please visit www.parkbradleyairport.com
2. Check-in Online, Use a Mobile Boarding Pass
When possible, check in for your flight online from the comfort of your home. Use this option while traveling and avoid the need to check in in-person or exchange printed boarding passes, which may increase the chance of spreading germs.
3.  Travel with Carry-on Luggage vs. Checked Luggage
If your plans allow for it, consider traveling only with your carry-on luggage. This eliminates further touchpoints, the need to check in in-person and also the need to wait for your luggage in baggage claim near other passengers.
4. Follow New TSA Procedures
In summary, place your boarding pass (paper or electronic) on the boarding pass reader, separate food for X-ray screening, pack smart (ensure that you do not have any prohibited items), remove hand sanitizer from your carry-on bag, and practice physical distancing. For more information about all of the changes taking place at TSA screening, visit: https://www.tsa.gov/coronavirus
5. Use Your Credit Card/Debit Card for Purchases
Avoid the exchange of cash when making purchases while at the airport by bringing a debit or credit card with you. If you need to convert cash into a card, the airport also has reverse-ATMs for your use.
And don't forget, hand sanitizer (3.4 ounces) and sanitizing wipes are now allowed through the TSA screening process! Find more information here about guidelines and restrictions: https://www.tsa.gov/coronavirus
At Bradley International Airport, your well-being is our number one priority and we are working hard to keep the airport clean. Additionally, we have installed plexiglass shields and physical distancing reminders, and we are requiring that face coverings be worn, which is now also required by federal law. Learn more here about everything we are doing to keep everyone safe: www.BDLCares.com
We look forward to welcoming you during your next visit, and we wish you a safe journey.
---
Bradley International Airport (BDL) invites you to love the journey at New England's second-largest airport. Recognized nationally by leading travel publications for its ease of travel, Bradley International Airport is ready to welcome you with new nonstops, expanded services, and convenient travel. The award-winning airport is operated by the Connecticut Airport Authority, and its operations are entirely self-funded. The airport contributes nearly $3.6 billion to the regional economy.
*Some nonstop flights may operate only during certain time periods of the year (seasonally). For the latest flight information, please visit the airline's website.