Airside Lobby // After Security Checkpoint
Table Service / Bar
Located: Airside Lobby / After Security Checkpoint
Hours: 11:00 AM - 7:00 PM
Phone: (860) 758-7522

Convenience Store
Located: Airside Lobby / After Security Checkpoint
Hours: 4:00 AM - 7:00 PM
Phone: 860-323-0926

Convenience Store
Located: Airside Lobby / After Security Checkpoint
Hours: 4:00 AM - 7:30 PM
Phone: (860) 323-0926

Counter Service / Salads, Wraps, & Stir Fry
Located: Airside Lobby / After Security Checkpoint
Hours: 9:00 AM - 7:00 PM
Phone: (860) 292-1580

Gineva Murano Glass Jewelry
Jewelry and Accessories
Located: Airside Lobby / After Security Checkpoint
Hours: 8:00 AM - 4:00 PM
Phone: (203) 314-2828

Apparel Kiosk
Located: Airside Lobby / After Security Checkpoint
Hours: 9:30 AM - 6:00 PM
Phone: (860) 578-8447

Duty Free Kiosk
Located: Airside Lobby / After Security Checkpoint

Electronics Store
Located: Airside Lobby / After Security Checkpoint
Hours: 5:00 AM - 6:00 PM
Phone: (860) 323-0926

Counter Service / Smoothie Bowls & Juices
Located: Airside Lobby / After Security Checkpoint
Hours: 4:00 AM - 5:00 PM
Phone: (929) 217-4783

Counter Service / Fast Food
Located: Airside Lobby / After Security Checkpoint
Hours: 4:00 AM - 9:00 PM
Phone: (860) 292-1580

Counter Service / Italian
Located: Airside Lobby / After Security Checkpoint
Hours: 10:00 AM - 7:00 PM

Counter Service / Coffee
Located: Airside Lobby / After Security Checkpoint
Hours: 4:00 AM - 8:00 PM

Concourse 1-12 // Gates 1-12
Bookstore
Located: Concourse 1-12 / Gates 1-12
Hours: 4:00 AM - 8:00 PM
Phone: (860) 654-1531

Counter Service / Coffee
Located: Concourse 1-12 / Gates 1-12
Hours: 4:00 AM - 8:00 PM
Phone: (860) 654-1531

Electronics Store
Located: Concourse 1-12 / Gates 1-12
Hours: 5:00 AM - 7:00 PM
Phone: (860) 331-6757

Duty Free Kiosk
Located: Airside Lobby / After Security Checkpoint

Phillips Seafood Restaurant
Table Service / Bar
Located: Concourse 1-12 / Gates 1-12
Hours: 11:00 AM - 8:00 PM
Phone: (860) 758-7522

Convenience Store
Located: Concourse 1-12 / Gates 1-12
Hours: 4:00 AM - 8:30 PM
Phone: (860) 323-0926

Table Service / Bar
Located: Concourse 1-12 / Gates 1-12
Hours: 11:00 AM - 7:00 PM
Phone: (860) 758-7522

Concourse 20-30 // Gates 20-30
Counter Service / Pretzels & Ice Cream
Located: Concourse 20-30 / Gates 20-30
Hours: 4:00 AM - 5:00 PM
Phone: (917) 536-3918

Convenience Store
Located: Concourse 20-30 / Gates 20-30
Hours: 4:00 AM - 7:00 PM
Phone: (860) 323-0926

Counter Service / Sandwiches
Located: Concourse 20-30 / Gates 20-30
Hours: 5:00 AM - 7:00 PM
Phone: (860) 254-5116

Counter Service / Coffee
Located: Concourse 20-30 / Gates 20-30
Hours: 4:00 AM - 7:00 PM
Phone: (860) 654-1531

Shoe Shining Service
Located: Concourse 20-30 / Gates 20-30

Table Service / Bar
Located: Concourse 20-30 / Gates 20-30
Hours: 11:00 AM - 7:00 PM
Phone: (860) 758-7522

Landside Lobby // Before Security Checkpoint
Self-Service Market
Located: Landside Lobby / Before Security Checkpoint
Phone: (860) 323-0926

Table Service / Bar
Located: Landside Lobby / Before Security Checkpoint
Hours: 11:00 AM - 7:00 PM
Phone: (860) 758-7522

Concorde's (at the Sheraton)
Table Service / Bar
Located: Landside Lobby / Before Security Checkpoint
Phone: (860) 627-5311

Counter Service / Coffee
Located: Landside Lobby / Before Security Checkpoint
Hours: 4:00 AM - 12:00 AM
Phone: (860) 654-1531

Starbucks (at the Sheraton)
Counter Service / Coffee
Located: Landside Lobby / Before Security Checkpoint

Clubs & Lounges
The Escape Lounge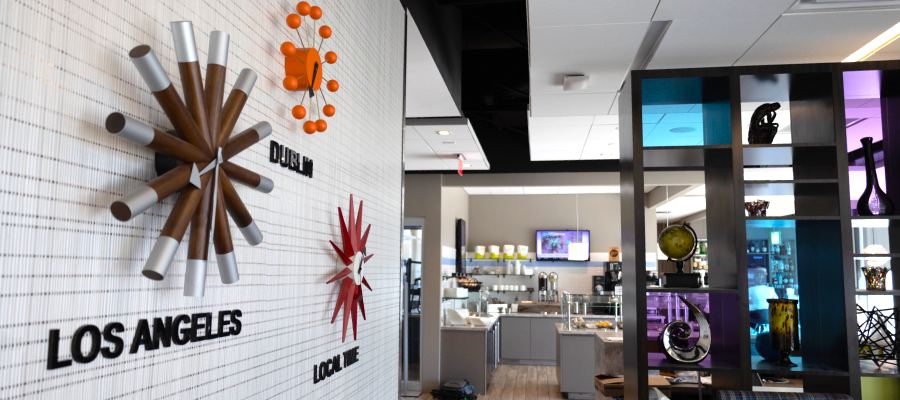 The Escape Lounge is a common-use lounge which any passenger can pay to gain access to, without needing to fly with a particular airline.
The Lounge features stylish and contemporary furnishings, a wide array of complimentary hot and cold food and drinks, private restrooms, flight information screens, free high speed WiFi, a relaxed atmosphere, and a selection of newspapers and magazines.
The Lounge is located near Gate 1, across from the Dunkin' Donuts.
American Express Platinum cardholders have free entry into Escape Lounge BDL. Entry is also available for a fee.
For more information about the Lounge, please visit www.escapelounges.com or view this brief video.
Escape Lounge hours: 5:00 AM - 8:00 PM