iStore Now Open at Bradley International Airport
Bradley Welcomes Terminal Updates: iStore Opens
August 31, 2017 >> Bradley International Airport is pleased to annouce another terminal enhancement. As of August 26, 2017 the new iStore opened for traveller use in Terminal A. The iStore replaces the former eSavvy store and is located adjacent to the New England Travel Mart and across from TravelTini.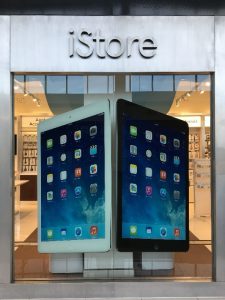 About the iStore:
"iStore offers personal mobile devices and accessories "for your digital life" including tablets, e-readers and headphones from leading brands such as Apple, Sony, Bose, and more. One of the fastest growing airport specialty concepts, iStore is the only Apple specialist with more than four years of experience in North American airports. The brand's relationship with Apple spans 20 years and offers a unique airport shopping experience, allowing travelers to directly interact with mobile technologies."
About Paradies Lagardère:
"Paradies Lagardère operates more than 850 stores and restaurants in 95 airports across North America with expertise in international, national and local brands. As the travel retail and restaurateur leader in North America, Paradies Lagardère provides exceptional customer service, superior design, and award-winning store and restaurant operations and management."
---
Bradley International Airport (BDL) invites you to love the journey at New England's second-largest airport. Recognized nationally by leading travel publications for its ease of travel, Bradley International Airport is ready to welcome you with new nonstops, expanded services, and convenient travel. The award-winning airport is operated by the Connecticut Airport Authority, and its operations are entirely self-funded. The airport contributes nearly $3.6 billion to the regional economy.
*Some nonstop flights may operate only during certain time periods of the year (seasonally). For the latest flight information, please visit the airline's website.