Bradley International Airport Enters Final Stages of Roadway Construction
New Traffic Patterns Coming, Travelers Should Plan Ahead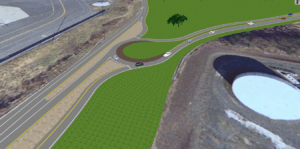 The Connecticut Airport Authority (CAA) is pleased to announce that the roadway construction at Bradley International Airport's Route 20 entrance is approaching its final stages. During these next phases of construction, access to the airport from the Route 20 connector will not be interrupted, however, new traffic patterns will be put in place to allow for the completion of the construction.
"This is an exciting time at Bradley International Airport," said CAA Executive Director Kevin A. Dillon, A.A.E. "We're committed to taking the travel experience at the airport to the next level, and that starts with the arrival at the airport. The new roadway will completely change the way travelers enter the airport, but most importantly it will make access easier and safer. It will also bring us one step closer to the development of the Ground Transportation Center, which will be another major improvement for our travelers."
The CAA began the construction of the new roadway system in June 2017. The project involves the realignment of Schoephoester Road along with a portion of the airport's lower roadway system, as well as the construction of a modern roundabout. Ultimately, when construction is complete, these changes will provide a new entrance to the airport at the Route 20 access point.
The main feature of the new roadway system is the modern roundabout, which is an effective tool to reducing vehicle speeds while maintaining high levels of traffic. The new roadway system will also result in the opening of a 19-acres site, which will be used for the future development of the airport's Ground Transportation Center.
During these next phases of construction, and over the course of the next six months, there will be several changes to the traffic pattern in order to achieve the final roadway configuration. Construction signs and variable message boards will be present along the roadway to alert travelers to these changes. Information about the changes in traffic patterns will be available on the airport's website, www.flybdl.org. Travelers are advised to plan ahead and allow extra time when coming to the airport during this time period.
The construction of the new entrance to the airport is scheduled to be completed in the fall of 2018.
---
read more articles...