United's Inaugural Flight from Bradley International Airport to San Francisco Takes Flight
United Airlines' inaugural flight from Bradley International Airport to San Francisco International Airport (SFO) took flight on June 9th at 6:25 AM, marking the beginning of the seasonal service.
"Bradley International Airport is a critical piece of Connecticut's transportation infrastructure – everyday more and more businesses and residents are turning to the airport as their first choice for air travel," Governor Dannel P. Malloy said. "The addition of this new direct route to San Francisco increases options for people in the region to get to where they need to go."
"United is proud to offer Hartford's only direct flight to Northern California," said Aileen Moriarty, United's manager of Connecticut Sales. "Hartford customers will now have more access on mainline aircraft to California, and 14 destinations in Asia and across the Pacific via SFO, United's Gateway to the Pacific."
"We are pleased to be offering our passengers added connectivity to the West Coast and beyond," CAA Board Chairman Charles R. Gray said. "With the addition of this new route, Bradley now offers direct flights to more than 30 destinations nationally and internationally, making travel for our leisure and business travelers more accessible and convenient."
The service utilizes an Airbus 319 with 128 seats and will run through September 4th. The outbound flight leaves Bradley at 6:25 AM (ET), with an arrival at SFO at 9:50 AM (PT). The inbound flight departs SFO at 10:45 PM (PT), with an arrival at BDL at 7:06 AM (ET) the following day. Customers can book these tickets at www.united.com.
"We have been prioritizing the expansion of west coast service at Bradley," CAA Executive Director Kevin A. Dillon, A.A.E., said. "We are pleased to strengthen our partnership with United by adding service to San Francisco, and we are confident that our passengers will appreciate this new route and the various amenities that we have recently added at the airport."
Passengers traveling on the inaugural flight were greeted by a welcome reception at the gate, which included complimentary coffee, refreshments, and giveaways, and they were sent off with a water cannon salute.
The San Francisco route is United's sixth nonstop destination out of Bradley. United's other routes include Chicago, Denver, Houston, Newark and Washington D.C.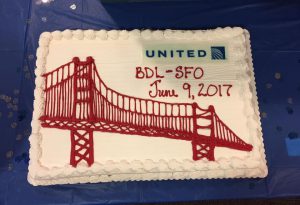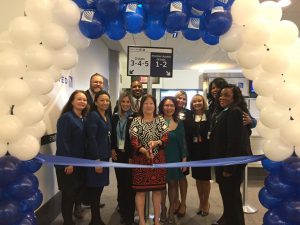 For more photos, visit our Facebook page.
---
read more articles...