Bradley's Got Spirit! Three New Flights to Great Summer Destinations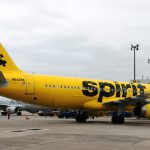 Bradley Airport's newest carrier, Spirit Airlines, launched two new flights to Orlando, Florida and Myrtle Beach, South Carolina, and its nonstop to Ft. Lauderdale, FL will commence in June. The inaugural nonstop flights departed from Bradley International Airport on 4/27 to Orlando International Airport and on 4/28 to Myrtle Beach International Airport. The inaugural flights were celebrated with the traditional water cannon salute, as well as a Spirit Airlines themed welcome reception for the passengers at the gate. Spirit Airlines is Bradley's first ultra low-cost airline, delivering competitive airline fares to regional travelers.
"Spirit Airlines is a strong addition to Bradley's growing menu of direct flights," CAA Board Chairman Charles R. Gray said. "A continued mission of the Connecticut Airport Authority is for Bradley's travelers to love the journey through the airport and beyond. One way of doing that is by continuing to diversify Bradley's flight options, which is why we're very pleased to be welcoming Spirit to the Bradley family."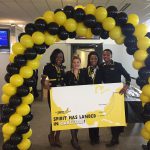 All of Spirit's operations at Bradley Airport will utilize either a 145-seat Airbus A319 or a 182-seat Airbus A320 aircraft. The Orlando route is offered daily, year-round and the Myrtle Beach nonstop is a seasonal service offered four days a week. Spirit will also commence nonstop service to Fort Lauderdale on June 15.
"The key to successful route development is a loyal customer base," CAA Executive Director Kevin A. Dillon, A.A.E., said. "The Myrtle Beach service has been frequently requested by our travelers and the additional frequencies between Bradley, Orlando and Fort Lauderdale will provide travelers with more options. It is our hope that these additions to our route structure will continue to encourage our travelers to come home to Bradley and choose our local airport over other airports."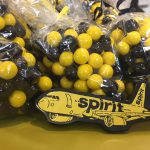 The ultra-low cost airline business model, which is increasing in popularity among economy travelers and the college student population, offers introductory service to a variety of destinations for competitive fares. These low fares allow travelers to pay a-la-carte for only the services they need (like baggage and seat selection), giving passengers great deals on flights.
"We are thrilled to deliver this nonstop service to two of the country's most popular summer destinations," said Mark Kopczak, Vice President of Network Planning for Spirit Airlines. "These new flights, with new service to Fort Lauderdale starting in June, give Hartford even more ultra-low cost options for summer travel."
"Bradley International Airport is a critical piece of Connecticut's transportation infrastructure, everyday more and more businesses and residents are turning to the airport as their first choice for air travel," Governor Dannel P. Malloy said. "The addition of these new flights increases options for people in the region to get to where they need to go."
---
Bradley International Airport (BDL) invites you to love the journey at New England's second-largest airport. Recognized nationally by leading travel publications for its ease of travel, Bradley International Airport is ready to welcome you with new nonstops, expanded services, and convenient travel. The award-winning airport is operated by the Connecticut Airport Authority, and its operations are entirely self-funded. The airport contributes nearly $3.6 billion to the regional economy.
*Some nonstop flights may operate only during certain time periods of the year (seasonally). For the latest flight information, please visit the airline's website.